What is a red sneaker writer?  A committed writer seeking useful instruction and guidance rather than obfuscation and attitude.  Red sneakers get the job done, and so do red sneaker writers, by paying close attention to their art and craft, committing to hard work, and never quitting.  Are you a red sneaker writer?  If so, this newsletter is for you.
STATE OF PUBLISHING REPORT
Since it's clear that eBooks are not a fad and will in fact be the predominant format for books for some time to come, this month I'm focusing on eBook trends and sales.  Reports that eBook sales slowed around Christmastime may be misleading.  Yes, the rate of growth diminished somewhat, inevitably, but the raw sales numbers increased impressively.
EBook sales continue to follow what's known as the "70-20-10" rule, basically meaning that 70% of all eBook sales are adult fiction, 20% are adult nonfiction, and 10% are children's/YA books.  YA books still sell well in print, of course, but relatively few young readers have access to eReaders (though I believe that will change soon).  As you can see from the chart below, this sales trend has held true for the last two years.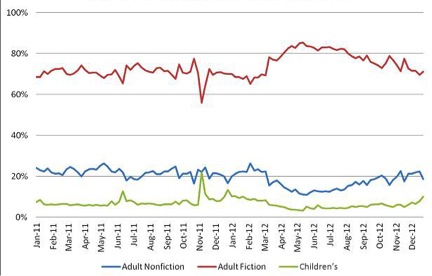 Random House Research and Analytics conducted a large-scale study to find out who these people are.  In some respects, eBook readers do not differ significantly from print readers—but there are some distinctions.  Here are the facts:
Over 20% of all adult Americans have read an eBook.
Most eBook readers still sometimes read print books.
Most eBook readers are women (also true of print book readers), are under forty-five and have college degrees (not necessarily true of print book readers).
EBook readers are over 20% more likely to have household income over $100,000 annually.
Here's how the study results break down.  First, in terms of gender: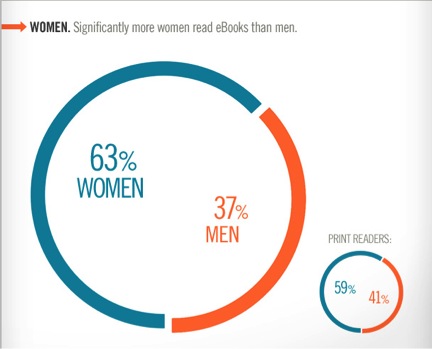 Then age: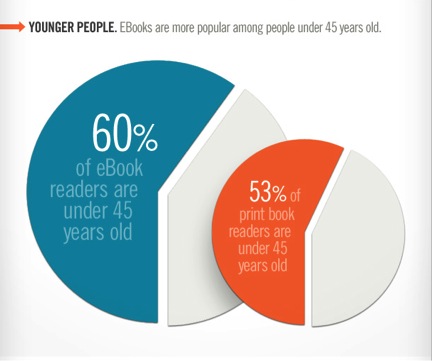 If you thought you were writing for a better than average educated audience, you were correct: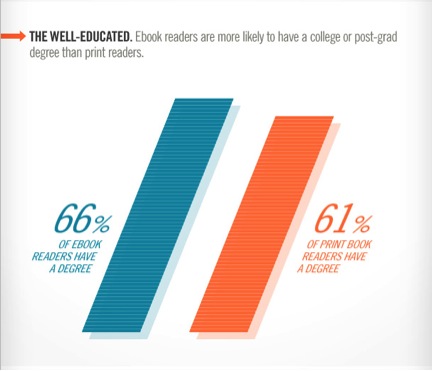 What Does This Mean for Red Sneaker Writers?  Obviously, this may influence the type of book you choose to write, although I will repeat my frequent admonition that it's pointless to write a book you don't love simply because a genre is currently hot.
Another study by the Pew Research Center indicates that eBook readers are more likely to make purchasing decisions based upon word-of-mouth recommendations (81% vs. 64% for print readers).  So writing a unique, exceptionally well-crafted book that generates buzz is more important than ever.  Knowing how to fan that buzz (after you've written your book), may also be important.
For those who publish their own books, this may also help you decide whether to produce a costly print edition or to go strictly digital, and where to distribute your digital books.  At present, digital sales are dominated by three outlets: Amazon Kindle, Apple's iBookstore, and B&N's Nook.  The Nook is a distant third, however, and recent rumors, reports, and disastrous Christmas sales suggest that B&N may discontinue making the device in the near future.
INDUSTRY NEWS
The most interesting news for writers is the resurgence of the short story, primarily due to eReaders and the Internet.  There is some debate about the extent of this resurgence.  The New York Times article announcing the short story boom was soon refuted by an article in Salon.  I think it's undeniable, though, that the options for publishing short stories have increased (even if the money hasn't).
In the digital world, the Kindle Singles program and Internet publisher Byliner are both providing venues for short stories.  Print publishers are increasingly willing to publish collections by authors who have proved they have a following, such as Karen Russell (Swamplandia) and George Saunders (The Tenth of December).  "It's the culmination of a trend we have seen building for five years," according to Cal Morgan at Harper Perennial.  "The Internet has made people a lot more open to reading story forms that are different from the novel."  Author Amber Dermont opined, "The single-serving quality of a short narrative is the perfect art form for the digital age.  Stories are models of concision, can be read in one sitting, and are infinitely downloadable and easily consumed on screens."
Some novelists are using short stories as loss-leaders, that is, offering stories for free or for ninety-nine cents hoping to attract readers to book-length works.    One caution, though: Putnam conducted a study on online book buying and found that people who buy ninety-nine cent books do not "buy up"—that is, they don't later buy more expensive books by writers they like.  Rather, they buy more ninety-nine cent (or free) books.  They make selections based on price rather than author.
What Does This Mean for Red Sneaker Writers? I've written few short stories over the years because they seem almost as hard to write as novels, and when you're finished, you had few places to publish them.  But if you enjoy writing short stories, you now have some potential online marketplaces.  The pay may not be terrific, but ninety-nine cents is better than zero, and small purchases can add up.  In the long term, though, I believe any writer who hopes to make a living writing will have to tackle a book-length project.
MARKET NEWS
In this case, a picture is worth a thousand words.  This is how eBook sales in adult fiction break down by genre, and these numbers have been consistent for years.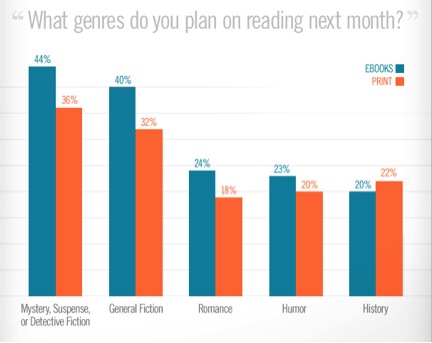 WHAT ARE AGENTS LOOKING FOR?
The Book with Something Extra.  At the Aloha Writers Conference, Neil Nyren, managing VP at Putnam, said he was looking for genre novels—with something extra.  That something extra could be some element that has not been seen before, such as a unique character, setting, or perspective.   And he noted that extreme readability is always essential.
Crime—thrillers, mysteries, suspense.  Check out the chart for yourself.  It's the top genre for eReaders and hardcover print, and given the high overseas popularity, there's a heightened chance of foreign sales.
Women's fiction.  This is by far the most popular sector of that nebulous "adult general fiction" category.
WHAT SHOULD THE RED SNEAKER WRITER DO?
Write every day.  Yes, I always say that.  Because it's the only absolute requirement.
Think about the demographic group buying eBooks.  How can you increase the appeal of your work-in-progress to those readers?  Will your book appeal to well-educated women under forty-five making a decent income?
If you don't feel up to writing a novel yet, consider the possibility of writing a short story.  Perhaps the lower page count will seem less imposing.  But when you plan the story, consider whether this could be the first step to creating a world in which you could later set a novel.
Focus on story structure.  No matter what you're writing, the book will be more engrossing if you understand narrative structure and observe the elements of classical storytelling.
UPCOMING WRITING PROGRAMS
Here's my schedule for forthcoming small group seminars in the Oklahoma City area:
April 15-19, 2013 (Level 3)
June 9-13, 2013
(Level 1)
June 22-26, 2103
(Level 2)
Each seminar will be five intense days learning the art and craft of writing. Participants will also gain experience pitching and selling their work for publication. Before the seminar begins and each night during, I will edit portions of your book so that by the end of the week, you should see your work improving. The seminars are limited to eight participants.
For more info on the small group seminars, visit my website: http://www.williambernhardt.com/small_group_seminars.php.

The Rose State Writing Conference will be September 27-29, 2013.  The Guest of Honor will be David Morrell, father of Rambo, author of First Blood and over two dozen other bestsellers.  He's also a former instructor at the famed Iowa Writers Workshop. Register by calling 405.733.7392.
For more information, visit: http://www.rose.edu/writing-short-course.
Till next time—keep writing!
William Bernhardt